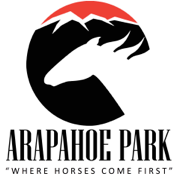 Bling On the Music became the first filly to defeat male horses in the six furlong, $100,000 Gold Rush Futurity at Arapahoe Park on the Colorado track's final day of the 2016 season on Sunday. She also won by the biggest margin, 13 lengths, in the race's history. The 2-year-old filly owned by Danny Keene's Keene Thoroughbreds, who also won the 2015 Gold Rush Futurity with Texas Chrome, remained unbeaten in three starts as she challenged Crosscheck Carlos for the early lead before leaving her competition behind.
"She's a really nice filly," jockey Luis Quinonez said. "The other horse [Crosscheck Carlos] tried to go with me, and she was able to relax and had her ears pricking. She ran just like she did in Texas."
The final time was 1:10.30. Bling On the Music, who is trained by J.R. Caldwell, also won the Texas Thoroughbred Futurity at Lone Star Park on July 9 by a similarly dominant 8 1/2 lengths.
Crosscheck Carlos, who is owned by a partnership that includes Colorado Avalanche defenseman Erik Johnson, held on for second in a photo finish with Karlo Lopez aboard. Crosscheck Carlos had won the D. S. Shine Young Futurity at Evangeline Downs in Louisiana on July 16 following a debut victory at Santa Anita in California.
Fillies finished in three of the top-four places in the field of nine, as Galactic Princess and jockey Russell Vicchrilli were third and McKenzie Honey and jockey Nathan Haar took fourth.
Who You Know Leads 1-2 for John Hammes in Mile High Futurity
Trainer John Hammes saddled the top-two finishers in the 400-yard, $115,830 Mile High Futurity as Who You Know and jockey Stormy Smith pulled away from In Kuh Hoots and jockey Alfredo Triana Jr. by 1 1/4 lengths in 20.045 seconds.
"I think it was just her turn today," Smith said about Who You Know, who had been third in the Cherry Creek and Rocky Mountain futurities earlier in the season. "I was always high on her from when she won the trials in the Cherry Creek. Today she was able to show how good she really is."
In Kuh Hoots had won the Cherry Creek Futurity on June 5. Bout Tree Fiddy, the winner of the Rocky Mountain Futurity on July 10, was third with Russell Vicchrilli aboard.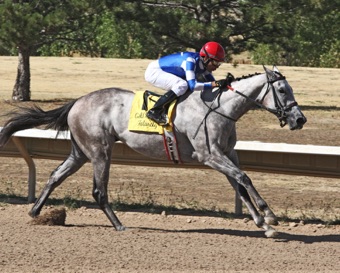 Gold Rush Futurity: Bling On the Music dominated Arapahoe's richest Thoroughbred race by 13 lengths, the largest margin in race's history. Photo by Coady Photography.
Mile High Futurity: Who You Know turned the tables on stablemate In Kuh Hoots. Photo by Coady Photography.