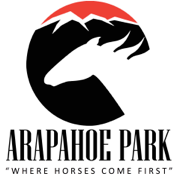 Jockey Justine Klaiber celebrates her first career win aboard Junia on Sunday at Arapahoe Park. Photo by Coady Photography.
Jockey Justine Klaiber scored her first-ever win in the first career victory for Junia in the first-ever race in the Heritage Arabian Racing Club series in the United States at Arapahoe Park on Sunday.
"I didn't want to stop riding, and when I finally went past the wire, I thought, 'Wow, I did it,'" Klaiber said. "It was a lot more exciting that I thought it would be."
Klaiber, who is from Tucson, Arizona, began galloping horses at Arapahoe Park four years ago when she was 16. Now 20, Klaiber obtained her jockey's license and started her career at the beginning of the Arapahoe Park season. She said she has also galloped horses at Rillito Park in Arizona and Hialeah and Gulfstream Park in Florida to train to be a jockey.
Klaiber piloted Junia, a 5-year-old chestnut mare owned and trained by Kenny Massey, to a 1 1/2-length victory in the six-furlong allowance race in 1:21.51. Arapahoe Park's jockeys doused Klaiber with the traditional ice water and shaving cream to celebrate her maiden victory.
"I guess I'm initiated now," Klaiber said.
After the race, there was a presentation to the top-finishing HARC horse, James Wetzel Jr.'s Dartyn Kriss Swa, for the series that seeks to expand Arabian racing breeding lines. The HARC series was started in 2015 by Sheikh Sultan Bin Zayed Al Nahyan of Abu Dhabi and features races in the United States, Australia, Brazil, Sweden, and other countries.
After Junia's win (left), there was a presentation for Dartyn Kriss Swa as top-finishing Heritage Arabian Racing Club horse. Photos by Coady Photography.